EXPOSED AGGREGATE CONCRETE
Artevia™ Exposed is a trustworthy and
robust exterior concrete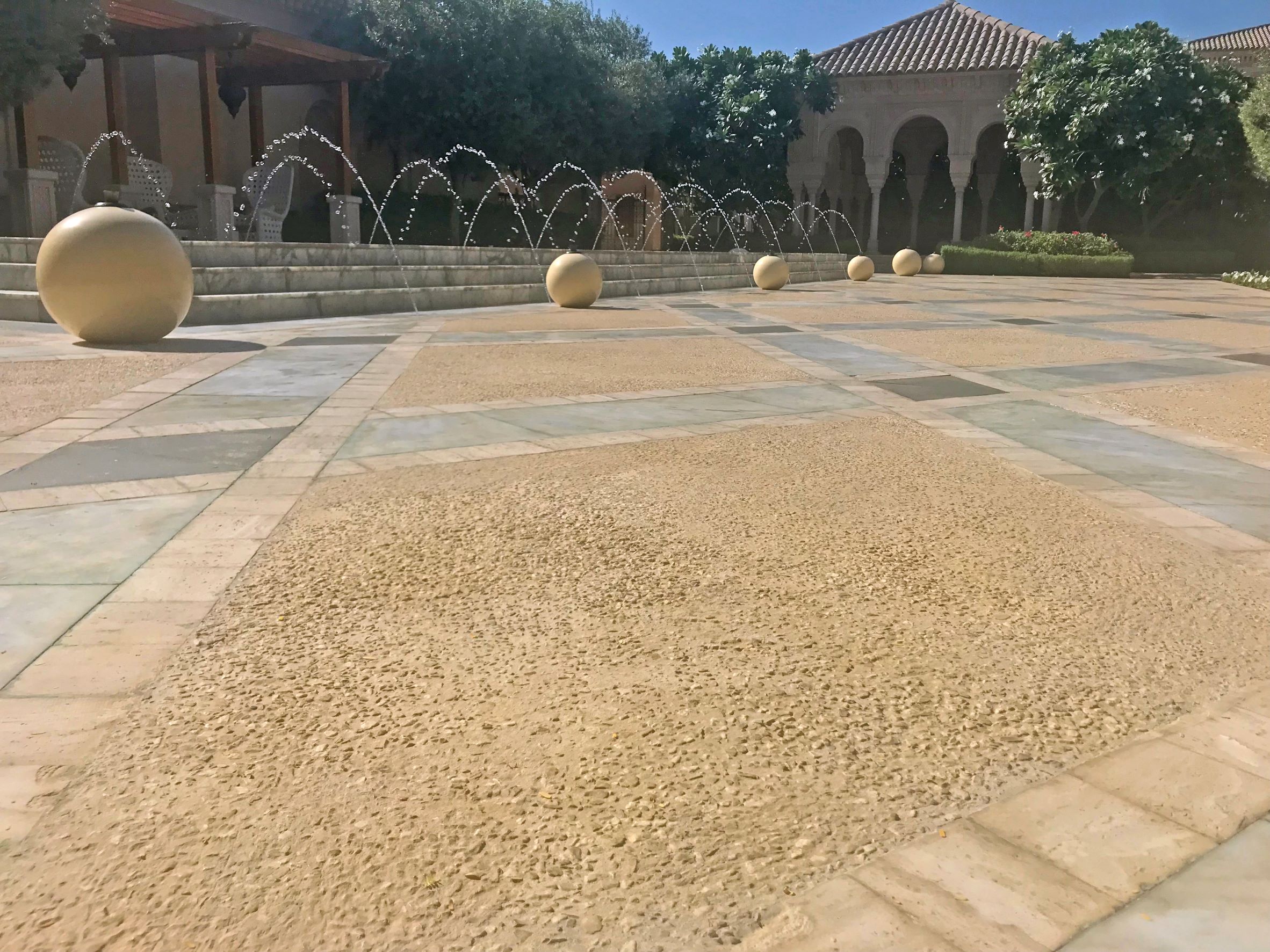 APPLICATIONS
Enhance architectural features
Highlight demarcation zones
Identify underground utilities and services
Building façades
Textured concrete
Precast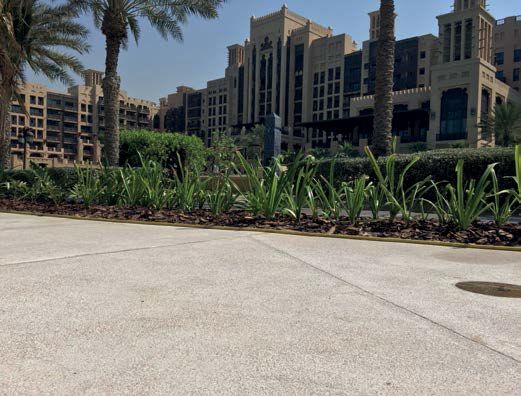 ADVANTAGES
Through-coloured edge when shuttering is removed
Available in 10mm and 20mm aggregate size
An integral through-colour
Gives a long lasting and fade resistant inbuilt decorative solution
Available at all Lafarge Readymix Gulf plants
Standard colours available
A range of proprietary mixes available for printing
Highly precise batching to ensure colour accuracy
CHARACTERISTICS
The depth of etch/ exposure can be varied
Four different grades of retarder are available, from a very light etch to a medium etch. Each grade of retarder is colour coded and contains an integral curing agent that will protect and cure the concrete until the washing process is complete.
When integral colour concrete is used, a two layer construction can be considered for large pavement areas in excess of 125mm thick.
The minimum depth of topping is 70mm. Artevia™ Exposed is available in standard colours. Where the intensity and colour of the aggregate at the surface of the exposed aggregate paving is prominent, colours and colour changes in the cement matrix can be quite subtle as it is mainly the aggregates that are on view.
Artevia™ is the name for superior coloured concrete, offering an aesthetic, durable, cost effective design solution. And because it's from Lafarge Readymix Gulf, part of the Lafarge Group, the world leader in construction materials, you can be sure the quality and service you receive is of the highest standards. As well as support from our friendly sales department, our technical support team is always on hand to help.
"We strive to deliver an excellent customer experience through service, quality, accountability and value"
METHOD
Artevia™ concrete will behave in exactly the same way as conventional concrete.
As with all decorative concrete, exposed aggregate paving should be designed with particular attention to joint spacing.
SURFACE RETARDATION
The surface retarder should be applied whilst the concrete surface still has a sheen using a spray at 4 bar pressure.
There should not be any standing bleed water but the concrete surface must not be allowed to dry.
It is important to ensure complete coverage of retarder, (4 – 5m2 per litre) excess retarder is not a problem.
Protect surface from rain immediately after applying retarder
PRESSURE WASHING
Pressure washing time after finishing the concrete, will vary depending on weather conditions.
Use industrial power washer with a minimum of 120 bar at the spray head.
Keep spray head close to the surface of the concrete, cleaning a small area thoroughly at one time.
Once the complete area has been done in this way, a final overall wash with the nozzle at a distance from the surface should be given to wash away any final residues.
SEALING
To prevent ingress of dirt and staining of the surface, it is recommended the "Lafarge Readymix Gulf Protect Emulsion" sealer be applied.
This process is carried out after the surface has dried with a minimum of 12-24 hours after casting.